Andros Routes is the name of our project combining research and positive actions for the environment, culture and evolution of sustainable tourism on Andros island. The Andros Routes project was initiated by the non profit organisation "Andros Research Centre" at the beginning of 2010 and is constantly evolving. The project is non-profit and resourced by the unpaid work of volunteers, the research members of Andros Research Center and donations from our sponsors and supporters.
Their basic pillars of actions are recording, maintaining and marketing the old hiking routes of the island, as well as the recording of oral history. Key to the success of the project is the involvement of local residents, unions, researchers, visitors and tourism professionals in our effort to create a continuous living project that is embedded of the island's identity and culture.
The old pathways of Andros, either stone paved or earth trails, constitute traces of Andros's uninterrupted human presence and history since antiquity. In the most eloquent way they express the relationship between humans and nature for centuries, revealing the special culture of the place. These old routes are the cornerstone of this project.
In more detail their pillars of actions are :
a) mapping of Andros' agricultural landscape,
b) recording of oral history,
c) recording of flora, fauna, geology.
d) the organisation of relevant informative, creative and entertaining activities for residents and visitors of Andros.
In more detail our actions to maintain the paths of Andros can be seen here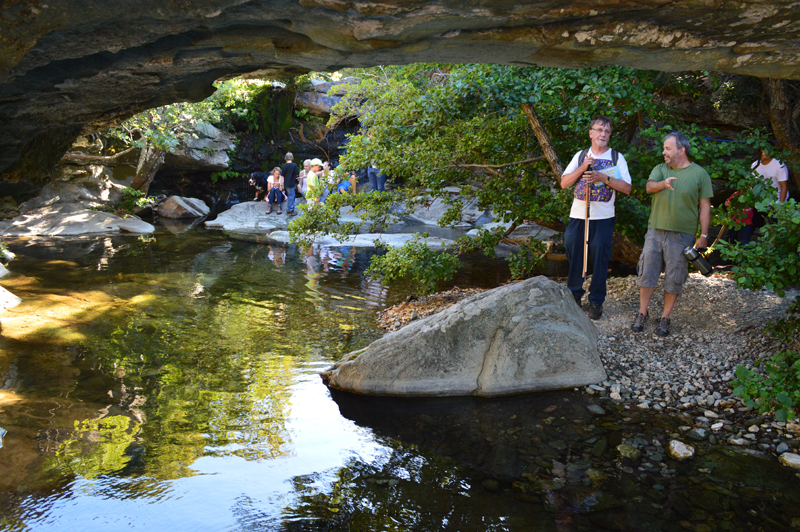 A CONTINUOUS 100KM CROSS ANDROS TRACK WITH A EUROPEAN QUALITY CERTIFICATION
Andros Route (the blue line on the map)- is a continuous exciting hiking route of Andros extending from north to south. It crisscrosses the mountain ranges of Andros, passing by it most beautiful natural landscapes and important monuments. One can hike along this route and stay the night on different Andros' villages enjoying the unique flavors and particularities of each area.
Andros Route, on October of 2015 got the distinguished European Quality Certification Leading Quality Trails-Best of Europe managed by the European Ramblers Association establishing Andros as one of the leading quality destinations for hiking.
GEOGRAPHICAL RESEARCH
Digital recording of the old footpaths of the island as well as of points of interest along the paths and:
flora and fauna
geology
water sources
monuments
area-location names